Anti-slip gratings (serrated)
Anti-slip gratings (serrated) are made of serrated load bearing and/or cross bars. Serrated gratings are used primarily for landings whose slope is larger than 6 degrees and platforms exposed to icing or contamination with oil and grease.

Anti-slip features are provided by designed serration of flat bars during product processing. Slip resistance index depends on the orientation of serrated bars in a grating and direction of traffic. The value of this index is regulated by DIN 51130 standard.

Anti-slip gratings should be selected with the following criteria in mind:

-platform or driveway slope
-environmental (atmospheric) conditions
-presence of contaminants and their type
-traffic direction with respect to the orientation of flat bars in a grating
Gratings serrated - types

Pressed grating serrated S1

- anti-slip bearing and plain cross bar
- thickness of load bearing bars: 2 or 3 mm
- mesh size as per the manufacturing plan
- spacing of 33 or 44 mm: between the cross bars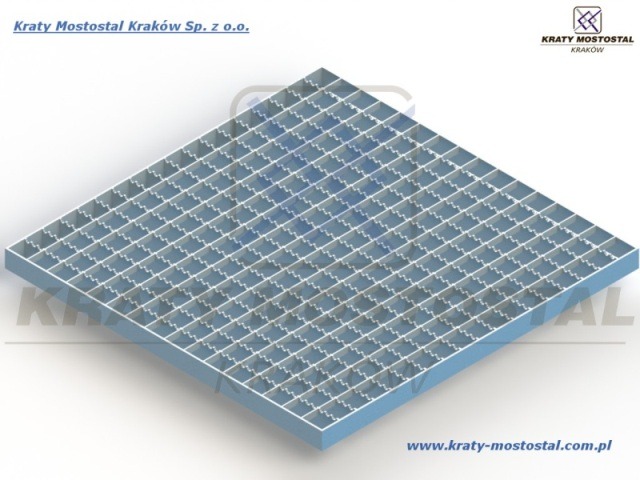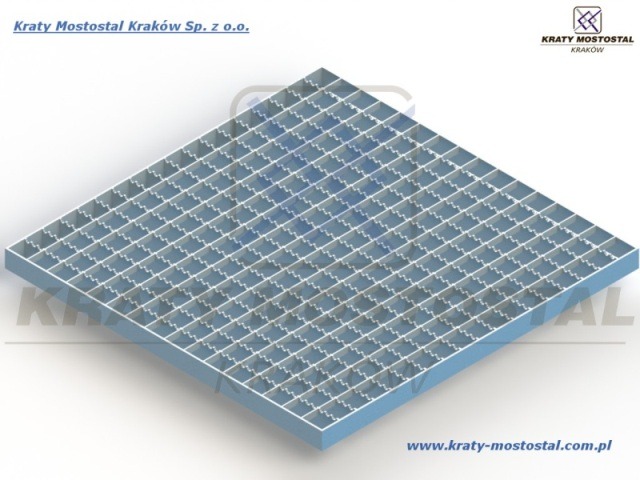 Pressed grating serrated S2

- anti-slip bearing and cross bar
- thickness of load bearing bars: 2 or 3 mm
- mesh as per the manufacturing plan
- spacing of 33 or 44 mm: between the cross bars

Pressed grating serrated S3

- anti-slip cross and plain bearing bar
- thickness of bearing bars: 2 or 3 mm
- mesh as per the manufacturing plan
- spacing of 33 or 44 mm: between the cross bars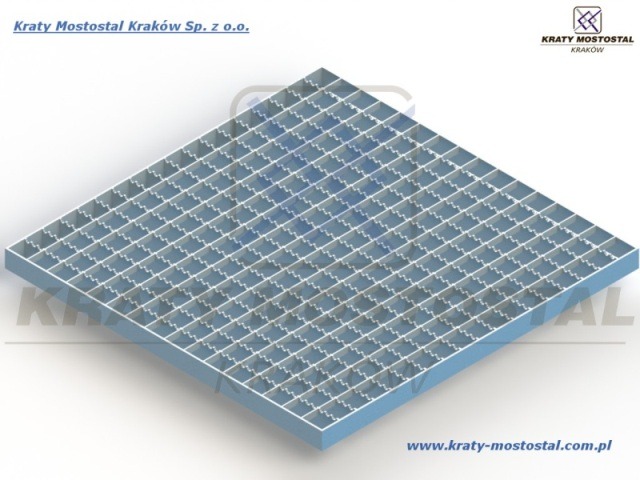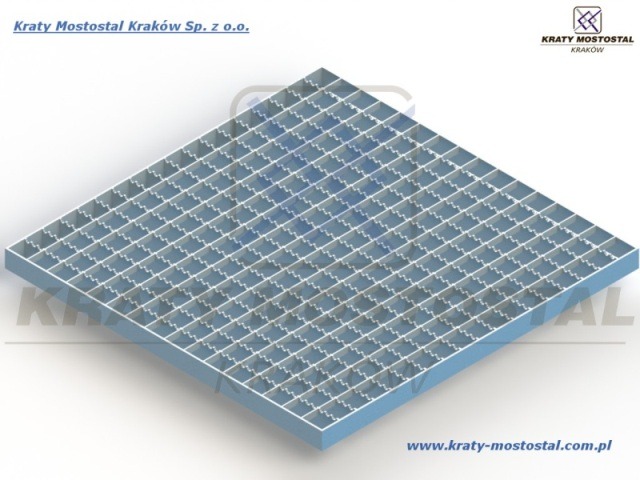 Welded grating serrated S4

- anti-slip load bearing and twisted rod
- thickness of bearing bars: 2 or 3 mm
- mesh size as per the manufacturing plan
- spacing of 38 or 51 mm: between the twisted rod

Grating serrated - technological dimensions

| | |
| --- | --- |
| Height [mm] | 25; 30; 35; 40; 50 |
| Thickness [mm] | 2.3 |
| | |
| --- | --- |
| Height [mm] | 9 |
| Thickness [mm] | 2 |
Mesh size
(space between bearing bars)
16; 22; 33; 44; 55; 66; 77; 88; 99 oraz inne*
Mesh spacing
(space between bearing bars)
33; 44
MAXIMUM SIZE OF A GRATING PANEL:

lenght: L = 2000 mm x width: B = 2000 mm

SAMPLE MARKING

symbol / mesh / bearing bar / external panel dimensions / number of pieces

S1 KWO / 33 x 44 / 40 x 3 / L=900 x B=1200 / 12